News
UGA students, staff, faculty stage "die-in" against dangerous reopening conditions, Testing, Accommodations still inadequate

On Thursday, August 6th at noon, UGA students, staff, and faculty, supported by members of the United Campus Workers of Georgia, staged a physically distant, masked "die-in" to protest what some are calling UGA's "death calculus." The protest took place on UGA's North Campus in front of the Office of the President.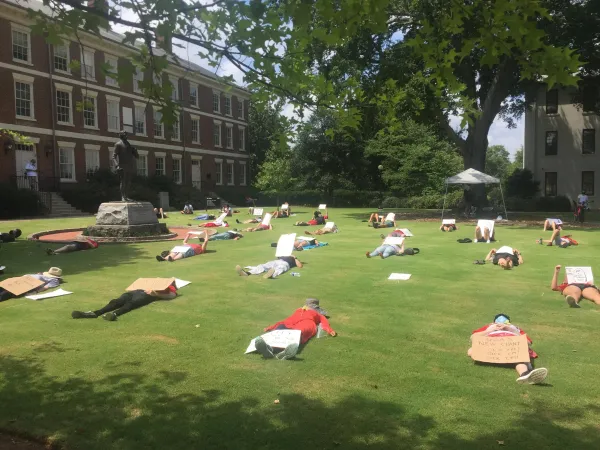 A growing number of letters, petitions, and calls for meetings with the Board of Regents and President Morehead have circulated around the state of Georgia and UGA. United Campus Workers of Georgia (UCWGA) received over 11,000 signatures on a
petition
asking for greater transparency from the University System of Georgia, along with
other demands
. Many UGA students, faculty, and staff signed an
open letter
also addressed to the Board of Regents. Students plan to deliver this letter on Thursday, August 6 in solidarity with the demonstration on UGA's campus. Over 1,300 UGA community members signed an
open letter to President Morehead
that was delivered to Morehead on July 17 with two requests: a virtual meeting to discuss the concerns within the letter and a subsequent virtual town hall open to UGA employees and the Athens community. Morehead did not respond. In a second effort to urge a town hall, dozens called in to Morehead's office on Tuesday, July 28. Shortly thereafter, the President's office shared news of a webinar to be held on Tuesday, August 4th, but it is only available to those with UGA login credentials. 
In light of UGA administration's failure to respond to various concerns, staff, graduate students, and faculty are taking to the streets to make their voices heard before it is too late. 
A 5th year graduate student in the philosophy department, Justin Simpson, said, "We need transparency and better communication. So far the university's administration has done a poor job providing opportunities to hear the concerns of its employees and the citizens of Athens. Based on its previous decisions, policies, and plans, it is not clear that UGA is prioritizing the safety and health of employees or the Athens community." 
English Professor Sujata Iyengar noted, "USG is not currently following best practices for campus reopenings. Have USG administrators already decided that a certain number of campus community members must die? What's the USG's death calculus?"  Professor Cindy Hahamovitch pointed out that many faculty have been granted the option to teach online, provided graduate students teach their students in person: "It's like a thought experiment in an Ethics class, only it's real and terrifying."
UCWGA members at UGA demanded to know President Morehead's death calculus and why he has decided that our students' and coworkers' lives aren't worth the cost of protection.
UCWGA Demands a Just Cost of Living Adjustment for USG Workers!
UCWGA Endorses 'Cop City' Referendum Movement in Atlanta Public Safety Training Center Construction
UCWGA Delegates Make an Impact at CWA Convention