Georgia State University employees started organizing our chapter of UCWGA in Fall 2018.
We are building a voice on campus for ALL employees. This includes undergraduate student workers, graduate students, staff, and faculty.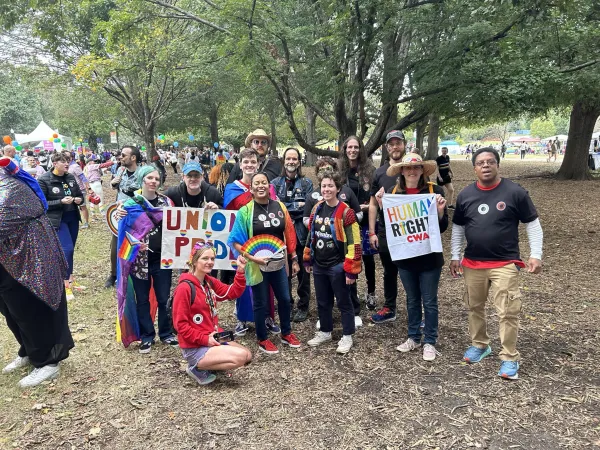 There are many issues we are eager to work on--from demanding respect for staff, to cost of living pay raises, the need to address the high cost of student fees and low stipends for graduate student employees, and poverty pay rates for adjuncts, to equitable pay and treatment for faculty, regardless of race and gender. Our current campaigns include:
A Living Wage Campaign
As the cost of living in Atlanta has increased drastically over the last few years, employee wages have stagnated. We have been working to address various aspects of this issue that have been compiled in our Fair Pay at Georgia State petition. 
The Graduate Student Coalition
Graduate students are among the most exploited employees in the university. Abysmal stipend amounts, exorbitant costs in healthcare insurance, and a cost of living crisis has left many graduate students living paycheck to paycheck without any significant financial stability. The Graduate Student Coalition aims to form a broad coalition of graduate students from all departments at the university where we can collectively identify and advocate for the issues affecting graduate students at GSU. We are critical employees that perform research, teach, and assist in daily operations that are fundamental to the university's continued function. As such, we believe that we must work together to improve our situations as vital workers and as students.
We have been working towards building a platform that addresses five main issues: 
Stipend amounts
Health insurance costs
Student fees
Costs related to transportation (i.e. parking permits, MARTA cards) 
Struggles specific to international students
We invite all GSU graduate students to join the Coalition and help build a community rooted in solidarity and take actionable steps to be compensated fairly for our labor.
Want to join us in moving forward with issues that are important to you?
We will update this page with our schedule for Spring 2024 meetings. All of our chapter meetings occur over Zoom.
If you're interested in learning more about the union, please email us at ucwga.gsu@gmail.com with any questions! We can provide you with more up-to-date info about current happenings in the union and send info for our chapter meetings if you'd like to sit in.
We also have a monthly social at Fellini's Pizza (1634 McLendon Ave) on the second Thursday of every month at 6:30pm. Feel free to join us and meet some of our members!
Join our discussions on Twitter and Facebook, or email us at ucwga.gsu@gmail.com.