The only wall-to-wall higher ed union in Georgia.
Membership is open to all USG workers, including:
Part-time staff, regardless of permanent or temporary status
Graduate assistants, researchers, and fellows
Part-time faculty including adjuncts and lecturers
Full time faculty and staff
Undergraduate student workers, including federal work-study students
Post-doctoral workers
Workers at institutions whose funding is allocated by the USG, including the Georgia Archives and the Georgia Public Library Service.
Workers in outsourced departments like Sodexo, Aramark, etc. are private sector employees and have the right to engage in collective bargaining with their employer.
Organizing at 20 out of 26 institutions...So far!
Not sure if your campus has a chapter? Contact an organizer to get connected or to start organizing at your workplace!
Being a wall-to-wall union means members across the state can work together on shared issues and coordinate lobbying efforts directed at the state legislature. Some committees include: 
Legislative Committee
Research for Organizing Network (RON)
Budget Committee
Communications Committee
K16 Teach Truth Coalition
Tobacco Surcharge Committee
Any member may organize with other members to form a statewide committee. Reach out to us at ucwga@ucw-cwa.org or check the calendar to learn more about statewide committee meetings.
UCWGA Stands in Support of Academic Freedom in Florida
United Campus Workers of Georgia stands in solidarity with the students, faculty, and staff of Florida's public colleges and universities amidst recent attacks on academic freedom, inclusivity, and faculty tenure by the administration of Florida's governor, Ron DeSantis. These attacks were summarized in a press release by United Faculty of Florida. Alarmingly, they're being touted as examples of what may be replicated in other states.
We reiterate the words of the members of United Faculty of Florida: "Real defense of viewpoint diversity means defending the rights of everyone, regardless of their political or ideological beliefs, to live, work, teach and thrive in Florida's higher education system… we are committed to a real defense of diversity, in every sense of the word, and we will not waver in that commitment, regardless of what shameful partisan attacks continue to come down from some of Florida's elected leaders."
News
UCWGA Communications Guidebook for Local Chapters
UCWGA's Legislative Committee Hosts Civil Rights Lawyer Brian J. Sutherland to Empower Union Members
UCWGA Demands a Just Cost of Living Adjustment for USG Workers!
View more
TOBACCO SURCHARGE COMMITTEE ADVOCATES FOR CHANGES TO THE DEFAULT TOBACCO USER DESIGNATION
The problematic setup of this fee has cost employees thousands of dollars of their hard-earned paychecks. UCWGA members started this campaign to change the way workers are opted-in and to win refunds for all wrongly charged workers. Reach out to nonsmoker@kellner.space to join this campaign!
Not sure if you've been affected? Take these steps:
Log in to OneUSG
Connect Click "payroll," then "pay," then your paystub
Look for "Tobacco Surcharge" 
If you're paid twice monthly, check two stubs!
Take the pledge to demand dignity for part-time faculty!
Take the pledge to demand dignity for part-time faculty! 
UGA's graduate student committee leads the charge for public graduate student organizing in Georgia. Together with members of all job classes and graduate students at other schools they've spent years advocating for the end of the Special Institutional Fee. SIF is finally ending for all students in Georgia! Great work!!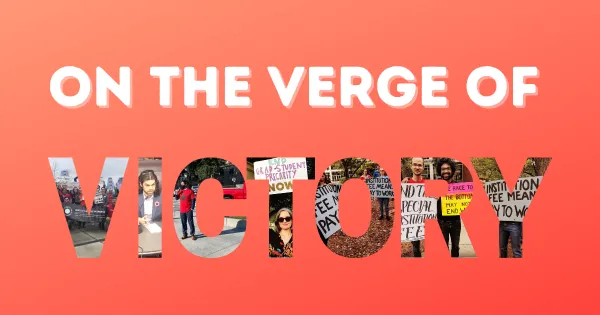 We can do a lot and have a proven track record of wins.
We sponsored resolutions in both the Georgia Senate and House to win cost-of-living adjustments for all USG employees. After 3 years of lobbying the USG budget was increased to grant full-time workers at $5k COLA raise. 
Our graduate student members at UGA won a seat at the table to negotiate health care costs. After 3 years of campaigning they won the removal of the Special Institutional Fee that was implemented during the recession. No students in Georgia will pay the SIF moving forward.
We participated in many grievance processes; winning members back their hours after cuts, winning new appointments for laid off workers, and defending members from employer abuse. 
We are campaigning to stop a campus from increasing course loads to pay for the administration's budget shortfall.
One campus started offering free on-campus covid-19 testing for students after members petitioned and protested for more safety measures.
Workers formed a solidarity fund to support laid off workers at KSU.
To win widespread, long-lasting change workers must organize a supermajority of USG employees to demand fair compensation and working conditions for all. Put the U in UNION by joining UCWGA!