News
UCWGA's Legislative Committee Hosts Civil Rights Lawyer Brian J. Sutherland to Empower Union Members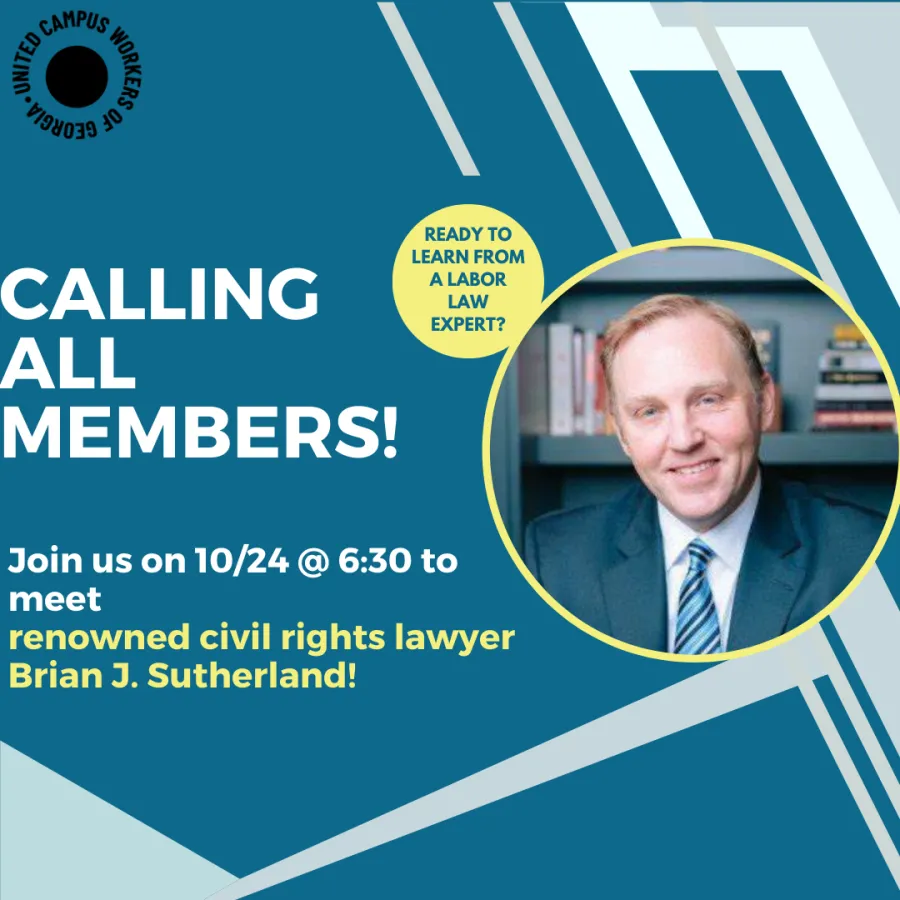 In a significant move to empower union members of UCWGA, the organization's Legislative Committee is set to host trial and appellate civil rights lawyer, Brian J. Sutherland. The event, scheduled for next Tuesday, the 24th, is designed to help workers seeking to understand their labor rights.
Brian J. Sutherland, known for his remarkable track record in defending workers' rights, has litigated cases at all levels of the legal system, including the U.S. Supreme Court. His expertise spans a wide array of labor-related issues, including employment discrimination, whistleblower protection, and civil rights violations.
During this special committee meeting, union members will have the opportunity to delve into the intricacies of labor law and dive into aspects of employment protection. Some of the key highlights of the event include:
1. Georgia Whistleblower Statute Demystified
Brian J. Sutherland will break down the basics of the Georgia whistleblower statute, shedding light on the legal framework that protects employees who expose wrongdoing in the workplace. Understanding the nuances of this statute can be essential for UCWGA members in advocating for their rights and ensuring accountability within their institutions.
2. In-Depth Look at the ADA and FMLA
The event will also feature a detailed exploration of the Americans with Disabilities Act (ADA) and the Family and Medical Leave Act (FMLA). These federal laws play a pivotal role in safeguarding the rights of workers facing disabilities and those seeking family and medical leave. Attorney Sutherland will provide specific insights into how these laws operate and offer guidance on how union members can benefit from their provisions.
3. Unpacking the Process of Proving Cases
One of the most significant challenges in labor law cases is establishing the evidence required for a successful claim. Brian J. Sutherland will share his knowledge on how these cases are proven, offering practical tips and strategies that can make a difference when seeking justice.
4. Understanding Damages Available
Union members will also gain an understanding of the potential damages available in cases involving employment discrimination, whistleblower retaliation, and civil rights violations. Attorney Sutherland's expertise in securing justice for workers in these types of cases will provide valuable insights into what UCWGA members can expect if they find themselves in such situations.
Are you interested in learning from an expert in the field of labor law and enhancing your knowledge of how to protect yourself and your coworkers from civil rights violations? Don't miss this opportunity! UCWGA members can find the link in their weekly newsletter from 10/16/23.
Mark your calendars for next Tuesday, the 24th, and join the UCWGA Legislative Committee for what is sure to be a lesson that will bolster our union's cause. 
Disclaimer: This event is for informational purposes only and does not constitute legal advice. Union members seeking legal advice should consult with a qualified attorney.
UCWGA Communications Guidebook for Local Chapters
UCWGA's Legislative Committee Hosts Civil Rights Lawyer Brian J. Sutherland to Empower Union Members
UCWGA Demands a Just Cost of Living Adjustment for USG Workers!