News
Presidents' Report April 2022

After over thirty years without a cost of living adjustment, full-time University System of Georgia (USG) employees expect to see a significant increase in their paychecks as early as their April payday. Georgia legislators have included five thousand dollar salary raises for all full-time state employees, including benefitted USG employees. Given that over the last thirty years Georgia State legislators have occasionally provided funding for small merit raises to a limited number of employees and the fact that the United Campus Workers of Georgia is the only organization that has been advocating for cost of living adjustments (CoLA) and across the board pay raises for all USG employees, members have been asking, are we finally being heard?
UCWGA has been fighting this fight for a long time. Prior to the start of the legislative session in 2019, UCWGA members called Governor Kemp, and asked him to include $1200 raises for all USG employees in the state budget instead of percentage-based merit raises. A short time later, members traveled to the Capitol for the UCWGA's first in-person Lobby Day. We pulled legislators to the ropes to call out the problematic nature of merit raises and met with members of the house and senate higher ed committees to explain how a lack of CoLA since 1990 has led to salary compression and a lower quality of life for USG employees. Health care costs have risen. Housing costs have risen. But most people's wages stay where they were. 
We were met with opposition from many of the legislators we spoke to, but we did find a few allies who drafted HR 290 and SR 291, resolutions that supported CoLA for USG employees. At our second annual Lobby Day in February 2020 and at our virtual Lobby Day in March 2021 we continued to advocate for fair funding, fair raises, and fair wages. Our legislative ally Senator Sally Harrell introduced SR 109 in support of CoLA raises for all USG employees for the 2021-2022 session. In July 2021 UCWGA members again called on Governor Kemp and members of his economic impact committees to use American Rescue Plan funds to fully fund K-12 and higher education budgets and provide liveable wages to all state employees. Then in December 2021 we held a third call-in campaign to Governor Kemp to ask him to restore pre-recession levels of state funding to the USG budget. 
The imminent $5,000 raises for full-time, benefitted USG employees are a partial solution to the chronic underfunding of public higher education, but this doesn't come close to making up for the lack of CoLA since 1990 and the continued impacts of inflation on workers' ability to afford basic necessities. More urgently, two large and important groups of employees continue to be left out when it comes to pay increases: part-time employees and graduate workers. When full-time workers making less than $80,000 per year got a $1,000 bonus in March 2021, UCWGA members launched a campaign demanding that part-time workers and graduate assistants also receive a bonus. It's clear that part-time employees have been underpaid and overworked for far too long. Take for example, Yvonne Wichman, who teaches freshman composition at Kennesaw State University. Yvonne teaches six courses–six!--for just over $17,000 and no benefits. Those of us who teach know that you can't teach six courses in 20 hours a week, but Yvonne and part-times like her cannot claim the hours they really work because USG would then owe them benefits. They were left out of past merit pay increases and the 2021 bonus, even though we rely on part-time employees to keep our campuses running. At Kennesaw alone there are nearly 900 of them. At our in-person Lobby Day in February this year, members expressed these sentiments to key legislators on the higher ed committees and called for part-time employees to be included in the pay raises this year.   
Graduate students have seen some incremental raises in their stipends over the years but their fees have risen too and rent increases have been huge. UCWGA graduate students fought a long and heroic campaign to abolish the biggest fee they pay and they just won! The Special Institutional Fee has been eliminated for all students in Georgia, increasing college affordability for the entire state. 
Clearly our fight is not over, but we should take a moment to realize what we have accomplished and to think about what could be possible. If we can win $5000 pay raises for full-time employees with less than 1000 members, imagine what we can win when a majority of USG workers are unionized.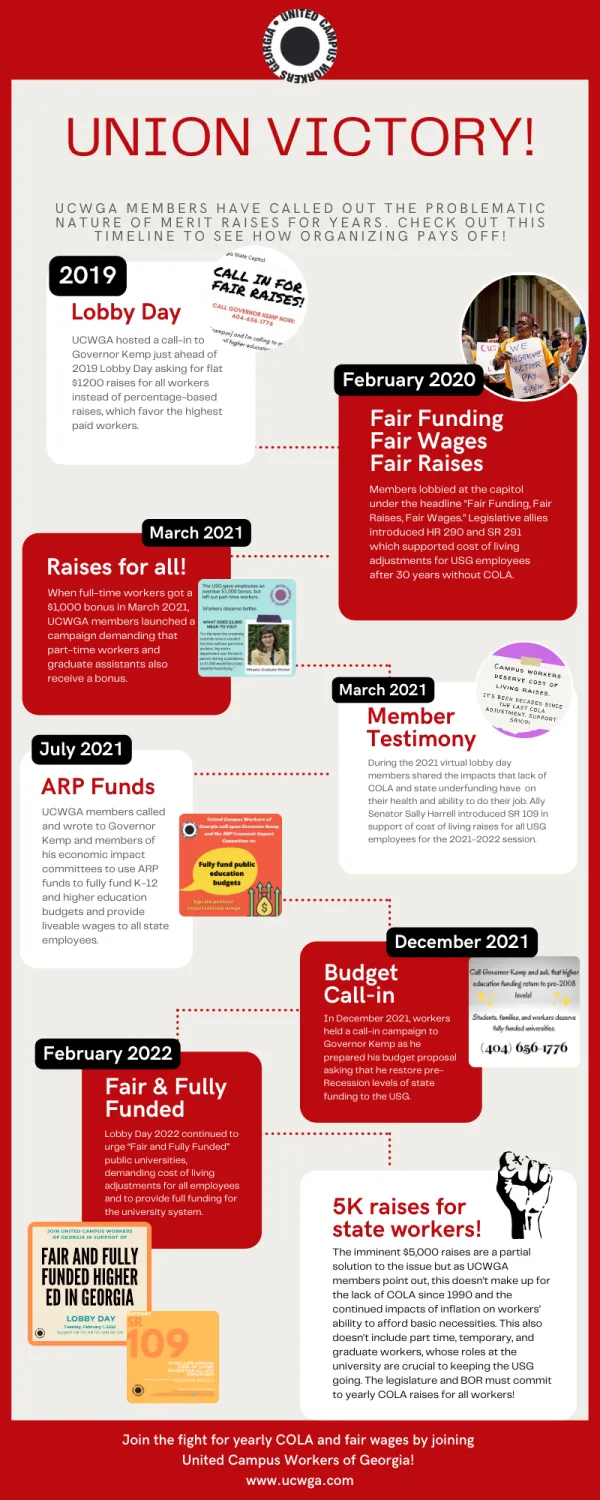 UCWGA Demands a Just Cost of Living Adjustment for USG Workers!
UCWGA Endorses 'Cop City' Referendum Movement in Atlanta Public Safety Training Center Construction
UCWGA Delegates Make an Impact at CWA Convention