News
Over 1,000 Signatures Delivered in UCWGA Free Parking Petition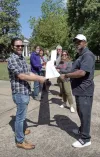 Campus workers and their allies celebrated May Day by delivering a petition for free parking to President Morehead's office. This year's petition, adorned with over 1,000 signatures, highlighted the pressing need for accessible and affordable parking options for university employees.
On May Day, a day historically dedicated to workers' rights and labor activism, the campus community rallied together to address the ongoing challenges faced by campus workers when it comes to parking. Led by organizers, the campaign gained swift momentum as the signatures rolled in.
The free parking petition aimed to draw attention to the financial burden and inconvenience experienced by campus workers who rely on their vehicles for commuting. By advocating for free parking, the UCWGA workers sought to create a more equitable environment for all employees.
The petition delivery was a highly anticipated event, serving as a culmination of months of tireless efforts. Workers, students, and other allies gathered outside President Morehead's office building. Carrying a thousand voices, our union members stood united in their demand for change.
The delivery of the petition served as a gesture, representing the collective vision of campus workers who contribute significantly to the university's daily operations.
The overwhelming response demonstrated the level of support behind the cause. Campus workers and their supporters remain hopeful that the administration will hear their demands and initiate constructive dialogues to address the parking concerns employees face.
Let the success of the petition campaign serve as a reminder that united action can bring about positive change. The May Day delivery was a testament to the resilience and unity within the UGA campus community. The organizers will continue to advocate for improved parking policies, aiming to create a campus that supports the well-being and needs of its workers.
May Day may be over, but the spirit championing the rights of campus workers lives on in our movements. The free parking petition is a catalyst for change, and its impact will be felt beyond the walls of President Morehead's office, resonating throughout the campus and to all USG schools.
UCWGA Demands a Just Cost of Living Adjustment for USG Workers!
UCWGA Endorses 'Cop City' Referendum Movement in Atlanta Public Safety Training Center Construction
UCWGA Delegates Make an Impact at CWA Convention