News
Newly Formed Georgia College Chapter Sees Results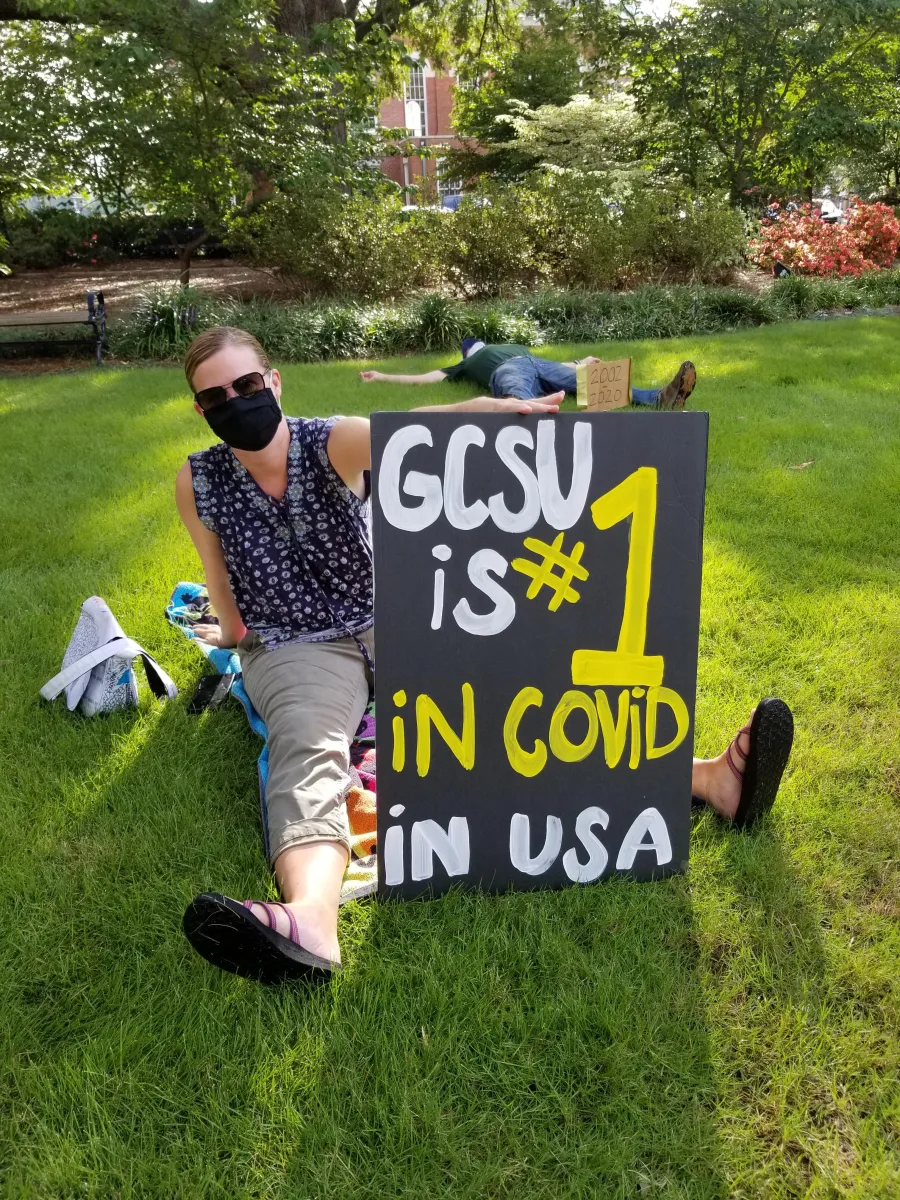 On Friday, August 28, 2020, the Georgia College & State University (GCSU) chapter of the United Campus Workers of Georgia (UCWGA) held our first direct action at our school's "Public Forum Area," with approximately 40 participants. We organized a die-in protest to urge GC's administration and the University System of Georgia (USG) Board of Regents to listen to our demands to stop the rapid spread of COVID-19 on our campus, including choice in online working and learning options, free on-campus testing, quarantine housing for students, hazard pay for frontline staff, and no layoffs in the event of campus closure.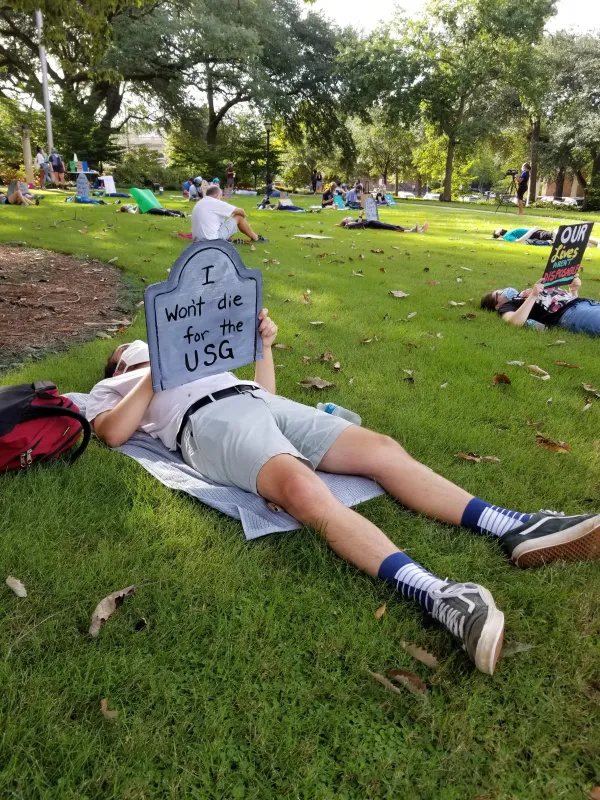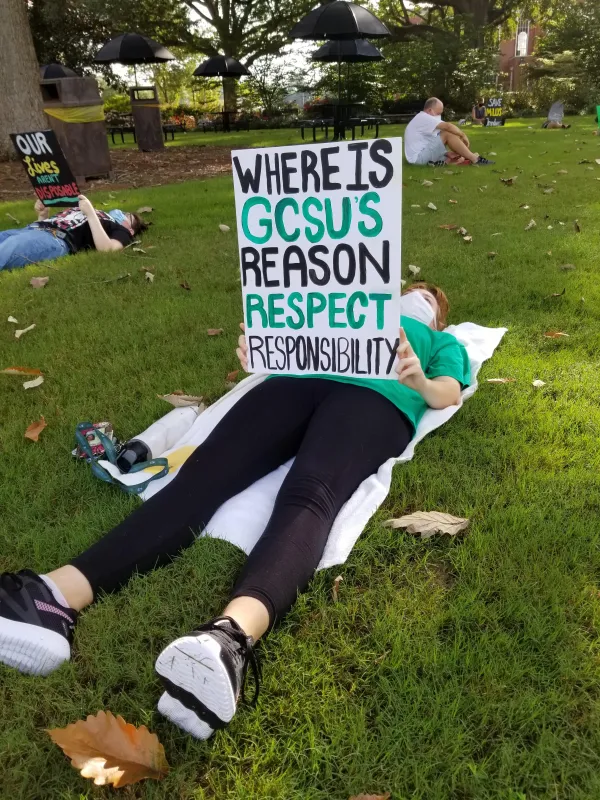 Our protest went largely ignored by GC's administration, though they did release a statement that said, "Georgia College fully supports the freedoms of speech and expression for our faculty, staff and students." However, on September 10, only a few weeks after members and supporters collectively raised our voices, the administration announced that free on-campus COVID-19 testing will be available to students (students may schedule an appointment for testing with Student Health Services at 478-445-5288).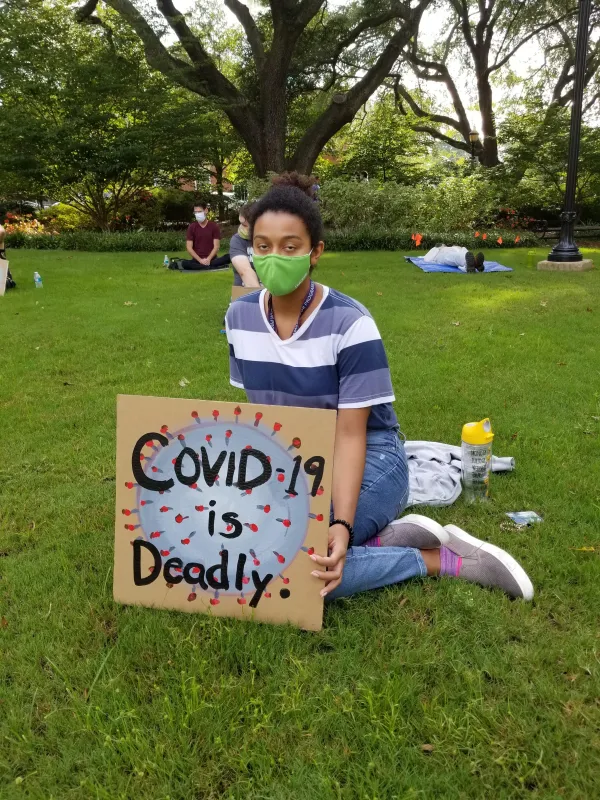 While we are grateful for the increased testing options, it is simply not enough to stem our school's ongoing public health crisis. As of the date of publication, there have been 715 self-reported cases of COVID-19 on our campus, including 683 students and 32 employees, with most cases being reported after GC's August 1 move-in. Reported cases are being tracked on the school website. Despite the national news attention to our small campus' large outbreak (we have about 7,000 students), leadership has maintained that all workers and students not previously approved for online accommodation continue to show up face-to-face, citing precautions taken as sufficient to protect us. 
UCWGA-GCSU disagrees. The petition we delivered to our school president, Dr. Steve Dorman, on August 4 asked the administration to allow greater flexibility to those whose work and learning can be done remotely. The UCWGA Local 3265 sent a petition to the Board of Regents demanding a safe return to campus with over 12,000 signatures. These petitions were not answered, prompting die-in protests at USG campuses across the state. 
Despite our administration and the Board of Regents' nonresponses, we remain committed to holding them accountable. Until all of our demands have been met, we will continue to organize for a safe and equitable working and learning environment. We will also continue building power within our chapter, which has grown to over 25 members since forming this past July. 
Along with organizing for better protections against COVID-19, we are fighting for racial justice on our campus and in our community. During our die-in, we made a statement in solidarity with anti-racist protests across the country. 
"We know that the COVID-19 pandemic is harming and disproportionately impacting Black and Brown people, Black and Brown communities. And we know that Milledgeville is about 50 percent Black. So when there is COVID-19 here on campus, it doesn't just harm our school; it also harms our community," said Denechia Powell, a graduate assistant and UCWGA-GCSU member who served as Media Coordinator during the action. 
If you're a GCSU student worker, staff member, or faculty member, we encourage you to join our movement. Get involved by joining our email list serv and becoming a union member. You can find us on Facebook, Instagram, and Twitter.
UCWGA Communications Guidebook for Local Chapters
UCWGA's Legislative Committee Hosts Civil Rights Lawyer Brian J. Sutherland to Empower Union Members
UCWGA Demands a Just Cost of Living Adjustment for USG Workers!